1990/91
Manufacturer – Matchwinner
Shirt Sponsor – Kelvin Homes
Following the 'Bib' experiment, Matchwinner decided on a classic style Saints home kit for their next offering, which ran from 1989 to 1991, and it proved a very popular choice with supporters. A soft white fold down collar and buttons replaced the crossed crewneck of the bib, and with white shorts and socks the new kit looked like a proper Saints strip with just the right amount of stripes. The only downside was a cardboard/plastic sponsor's logo rectangle which was uncomfortable, particularly if you played football in it. At Parkhead and Ibrox black shorts were used.
The standard away kit was red with white or black shorts and a third kit (allegedly for European football), was a very smart white shirt with black shorts, but the only time I can ever recall this being used was a pre-season match in Carlisle in 1989. The goalkeeper had the choice of red, blue or yellow.
Buy the 1989-1991 red away shirt here – https://www.stmirrencairters.com/listing/772284969/st-mirren-1989-91-red-away-retro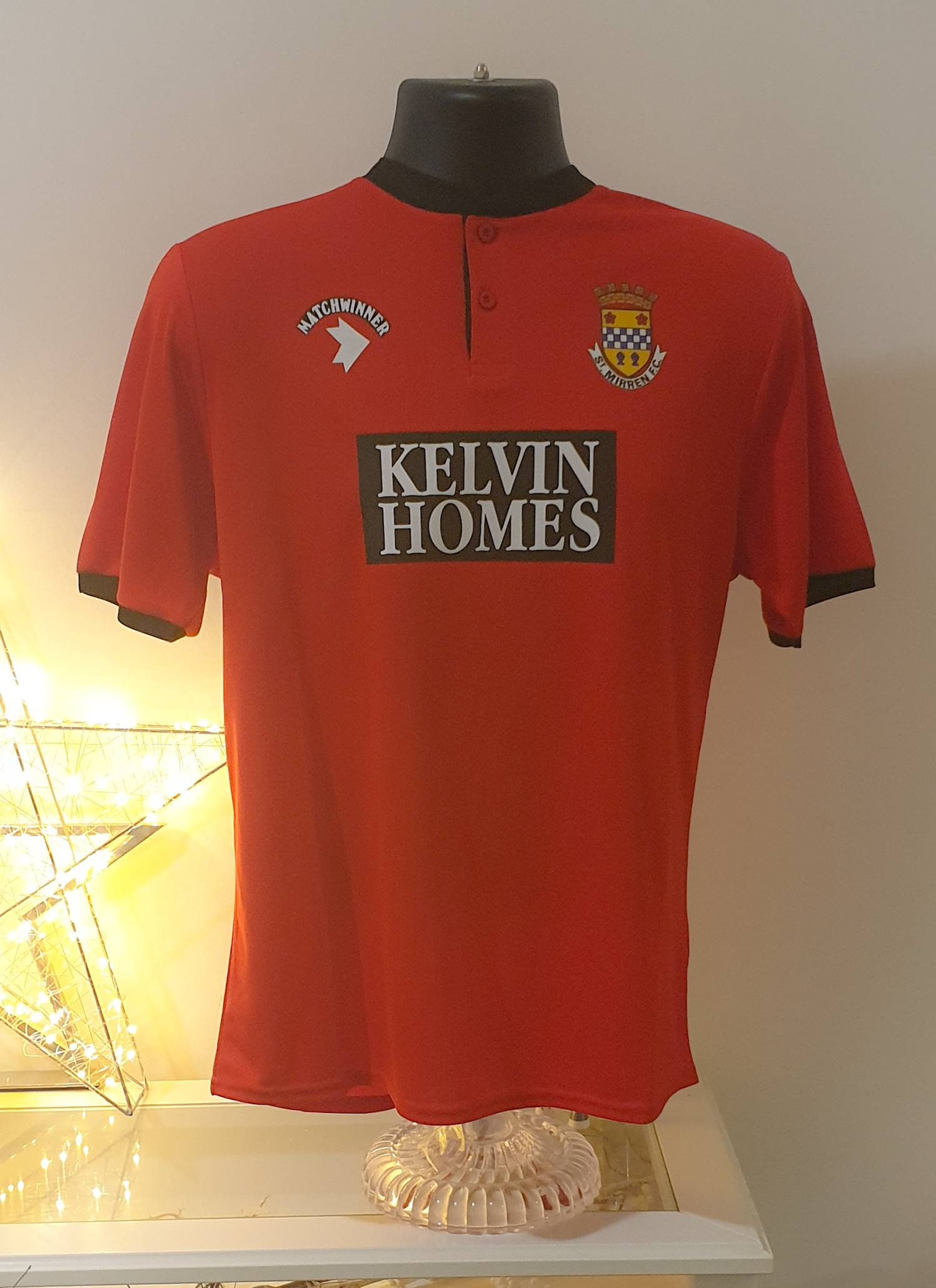 Buy the white 1989-91 third kit shirt here – https://www.stmirrencairters.com/listing/769666341/st-mirren-1989-91-style-retro-football-t
This was the second season of the same kits; incredibly the last time this happened at Saints before clubs realised there was good money to be made.
1991/92
Manufacturer – Matchwinner
Shirt Sponsor – Kelvin Homes
A classic black and white home strip with a twist; the manufacturer put a red stripe along the shoulder area as well as a very subtle continuous Paisley Pattern design throughout the shirt, red stripe excluded. The collar was not as pliable as the previous season and was black with a red trim, but the sponsor's logo was a rubber/plastic square with hard edges which again lacked comfort. White socks and shorts accompanied.
As smart as this new home kit was, it was the away kit which became a ground breaker not just for the club, but in the UK as this was the first all-black football kit ever produced, meaning Saints needed permission from the SFA to register it due to a possible clash with match officials. The same Paisley pattern was prevalent throughout this kit also, but the sponsor's logo was white material attached letter by letter to the shirt, taking away the discomfort of the home strip. Apparently this away strip sold very well UK wide.
1992/93
Manufacturer – Matchwinner
Shirt Sponsor – Ingram Motors
Saints kept the same two strips, but with a new club sponsor, Ingram Motors based in Rowan Street of Paisley (owned by ex Ayr United player Alex Ingram) the kits were sold as a new release. The blue and white Ingram logo was made of the same rubber/plastic as the previous seasons Kelvin Homes one, this time on both kits, and again lacked comfort when wearing.
In the match against Dunfermline in December at East End Park, with the referee deciding both of Saints kits clashed with the Pars own black and white one, the Fifers refused to wear their away kit at home forcing Saints to find an alternative strip, and a reappearance of the blue kit for a one off match for the first time since 1985 occurred, paving the way for the multiple season long ones that followed.
1993/94
Manufacturer – Matchwinner
Shirt Sponsor – Clanford
In the final season of the Matchwinner years, the Bolton based manufacturer produced one of the most popular home kits of the 'retail era' as well as an away strip which depending on your taste is either a cult classic or a huge mistake.
The home kit was based on a Juventus style one, and the elegant stripes and white collar were complimented on the official players' kit with a black square for numbers, but unfortunately this design was not available to purchase and the back was fully striped in the shops. White socks and shorts accompanied but the sponsor changed once more, this time to Clanford Motors, located in the town at Lonend, but the logo was again a hard plastic rectangle.
The away strip meanwhile was a "ground-breaking" design which combined predominantly red with some black, white and grey into an explosion of colour on the shirt, with black shorts and socks. Make up your own mind!
1994/95
Manufacturer – Core
Shirt Sponsor – Clanford
Saints changed kit manufacturer to English based Core, and decided to break from tradition by producing a 'half in half' home kit, based on a Blackburn Rovers style design who were English champions in 1994. Although this divided opinion at the time, it was at this point Saints biggest ever selling home shirt, and the Clanford logo was no longer a plastic attachment but material bound to the shirt. White socks and socks again accompanied.
The new manufactures decided to produce two alternative kits, with the standard away strip yellow, the first time this was ever used in a Saints shirt, and a nod to this colour being on the badge according to the manufacturer. This kit had black sleeves and shorts. The third strip was also a first for the club, with red and black stripes, black shorts and socks which also proved popular with the support.
1995/96
Manufacturer – Core
Shirt Sponsor – Phoenix Honda
With the club struggling for sponsorship as it looked increasingly likely a long spell in the second tier beckoned, they decided to have a raffle for sponsorship at £500 a ticket, which raised over £50,000 and was won by Phoenix Honda, based in Linwood.
A new home kit saw a return to black shorts and socks for the first time since 1984 and the shirt had five fairly thin stripes. The away kit was red with white and black pinstripes, along with white shorts.
1996/97
Manufacturer – Admiral
Shirt Sponsor – Phoenix Honda
Saints switched manufacturer once again, this time to former sports retail giant Admiral. To signify 10 years since the 1987 Scottish Cup win, a home kit loosely based on this was produced with the away kit a smart inverted edition, which was all black with white pin stripes. The shirts also had the"Saints Man" logo in the shape of a Paisley Pattern playing football inscribed throughout the material.
1997/98
Manufacturer – Uhlsport
Shirt Sponsor – Phoenix Mitsubishi
Following the transfer of the Admiral assets to a new parent company whose main aim was outside of football, Saints agreed a two year deal with German manufacturer Uhlsport and their first home kit was predominantly white with thin black stripes, white collar, shorts and socks with a return of the black number box last seen in 1993.
The away strip copied the 'one off' blue shirts used in the UEFA cup in 1985 and against Dunfermline in 1992, and an official season long turquoise like away shirt with black shorts was unveiled, the first of many over the next decade or so.
1998/99
Manufacturer – Uhlsport
Shirt Sponsor – Arriva Scotland
With Saints struggling again for sponsorship as the club was now in its longest ever period outside the top flight, they went back to the £500 raffle and again raised as much as they would have expected from a standard sponsorship. This time however it was won by a local trader, Foxbar Video, and with the owner being a Saints fan realising it may be embarrassing for a club of our stature to have his small retail shop as a sponsor, sold it to Arriva buses for £10,000, who of course had bought over Clydeside Scottish, a former club sponsor.
Black shorts returned with a new home shirt, a darker kit which fitted in perfectly with the poor form throughout 1998. The away kit however was the opposite of dark and in an unpopular move was changed bizarrely to an orange shirt with white shorts, and remains a sore point for many Saints fans to this day.
1999/00
Manufacturer – Xara
Shirt Sponsor – CETCO
With Saints form picking up considerably in 1999 since the appointment of Tom Hendrie, optimism was high and new English based kit manufactures Xara producing a bright and classy home strip to coincide with this, which had the name of waterproofing manufacturer CETCO on front.
The away strip was all red with white trimmings, however this led to issues both times Saints faced Clydebank away (which just happened to be at Cappielow as the Bankies had no ground) as the two St Mirren kits clashed with the red and white home strip.
In the first match at Cappielow in 1999, Saints chose to wear the red away shorts and socks with home shirt which looked plainly odd, but nothing compared to the second trip in the spring of 2000, when the referee still didn't like the shirt clash, and with the only kit available at Cappielow being Morton strips, Saints played the match in our own away shorts and socks, but with the luminous 'Ton away shirt.
This means that the only ever unbeaten side in a Morton strip is of course St Mirren……….