1960/61

For the advent of the 1960's, Saints decided to go for an all-white long sleeved kit with black trimmings, including cuffs, collar and entire sock folds. No badge was on this kit though most of the time, however for promotional shoots it made an appearance.

1961/62

The Saints crest formally returned to the shirt this season, which also went back to being short sleeved. Again there was black flashings including a black V-neck collar and two hoops on the socks.
Buy a white 1962 replica t-shirt here – https://www.stmirrencairters.com/listing/735140879/st-mirren-1962-style-retro-football-t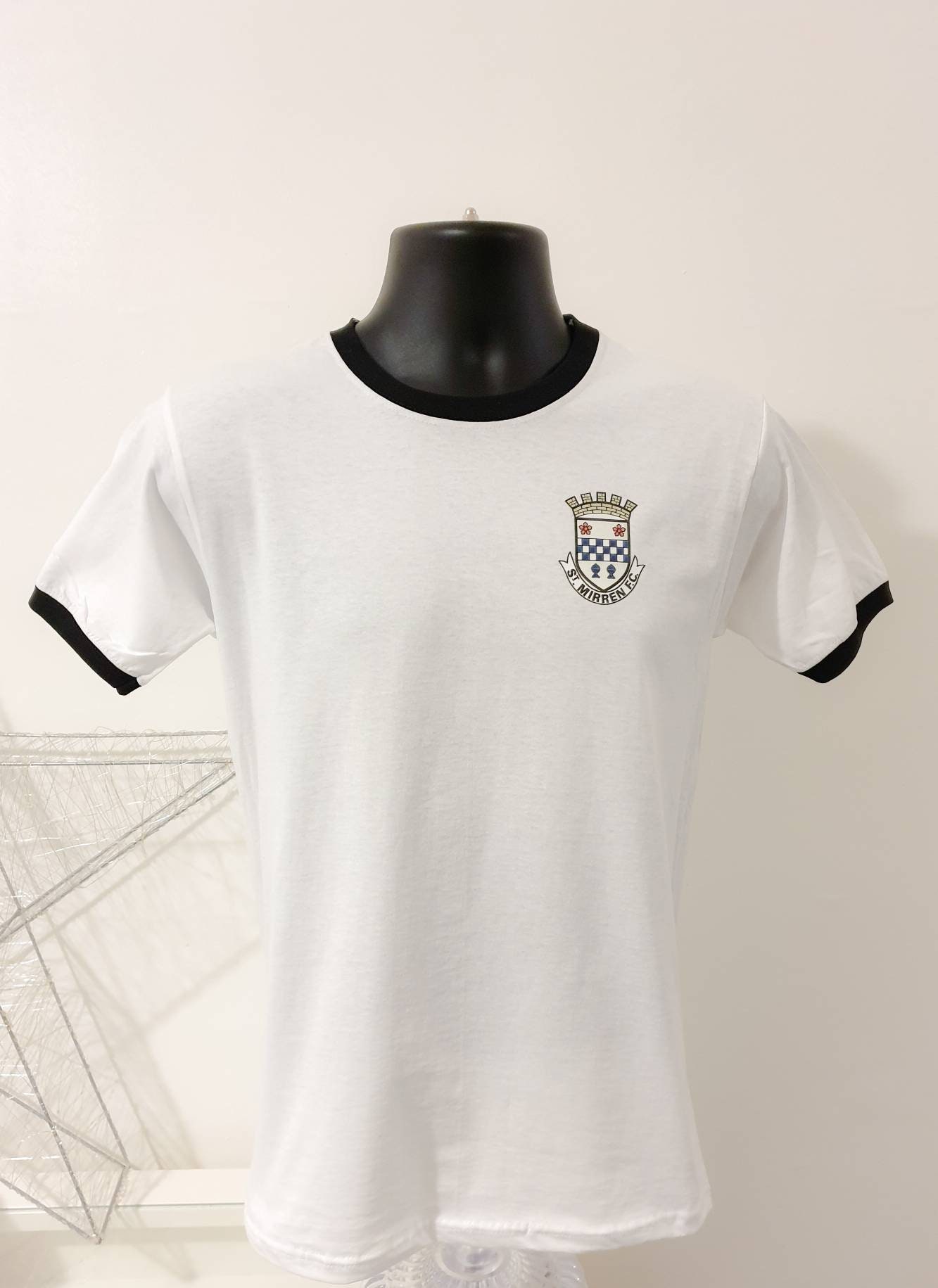 1962/63
Bob Crampsey summed it perfectly in the 1991 Saints video 'Marching In' when he described this kit as a "Jazzy strip", and the black and white striped shorts is something we will probably never see again. The badge was trimmed down and sewn straight onto the shirt as opposed to the yellow like cloth material used previously on strips, and this extremely smart shirt was released on a limited edition basis a few years ago. The socks also changed to all white.

1963/64

The clown shorts were dropped, and the kit returned to one very similar to 1961/62, the only differences being it was long sleeved, had a crew collar and the badge remained neater like the previous season, apart from these promotional pictures below of goalkeeper Dick Beattie and Tommy Robertson!

1964/65
This was the only season during the 1960's where a 'classic' style Saints shirt was used, and was very similar to the 1959 jersey, except the collar was black as was the trimmings at the end of the short sleeves, and the badge was dropped once more. The shorts remained all white, but red socks were introduced for the very first time.

1965-68

The stripes remained, however they were pinstripe in the shape of six neat black ones on the front and back. The collar was a black and white V-neck with white shorts, and the socks were hooped black and white.

1968/69

A change of kit, but the pinstripes were kept and there were two more this time, one of which broke to allow the club badge on the home shirt. Again it was all white shorts with hooped black and white socks.